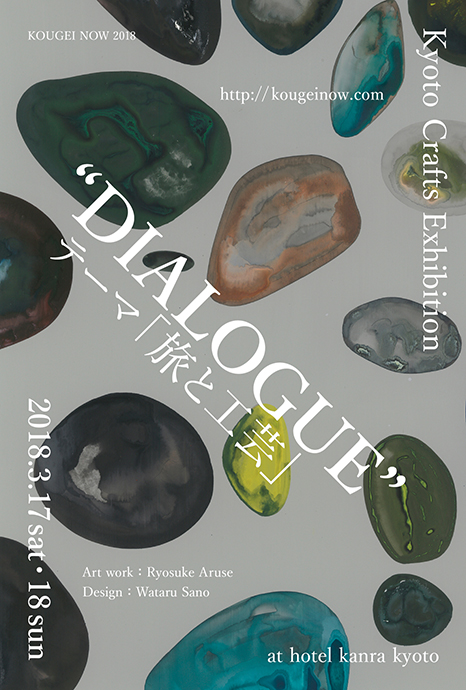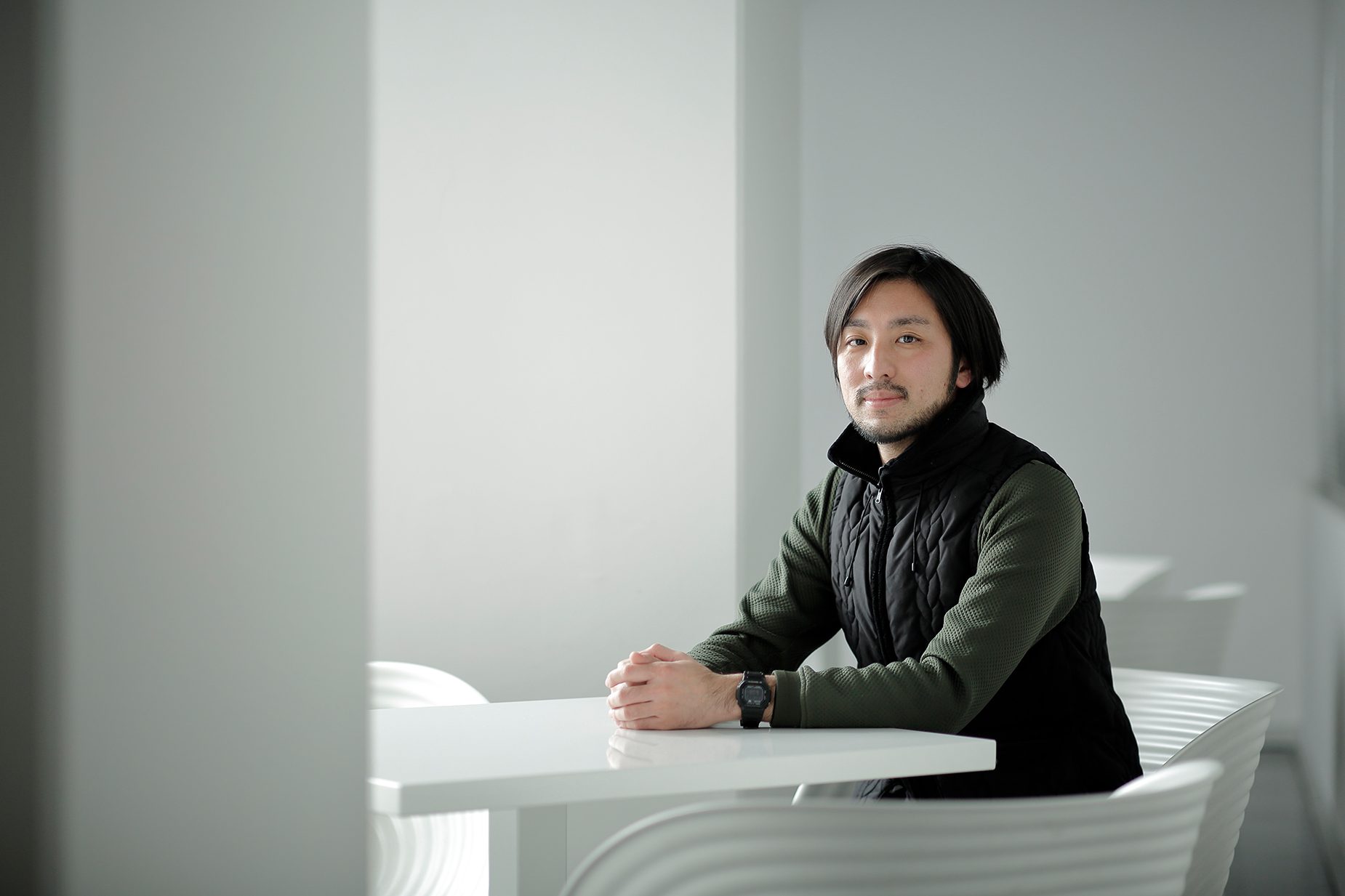 Okisato Nagata, Planning Director, EXS Inc.
Born in Fukuoka Prefecture in 1978, Mr. Nagata joined EXS Inc. after working at the 21st Century Museum of Contemporary Art, Kanazawa and design offices thereafter. Based at the Tokyo office, Mr. Nagata engages in activities focused on plan design, design direction, and graphic design to solve problems in a wide variety of fields, from art and traditional crafts to new business development for companies.
http://exs-inc.com
— Mr. Nagata, as a planning director, you're active in a wide range of fields. Please tell us about your main work.
The specifics of my work are varied, but the work I do can basically be divided into three categories. First, I provide support for people engaged in craftsmanship regionally. Together, we consider connection-building among creators, communicators and users by having them join hands through the activities of the TE TE TE Traders Expo and the work of the instructors at Kyoto Craftsmen Studio and the like. Second, I work with companies to support their product and business development. One example I can give is working with OHNOYA, a long-standing confectionery shop in Takaoka, on Takaoka Ramune [soda-flavored candy from Takaoka]. Third, I am involved in research projects on cutting-edge marketing and technology.
Although the client scale always varies, one thing the work has in common is that it starts with clients asking me to help them find new ways of working when the conventional ways are no longer adequate.
— How did you come to do this kind of work?
I've loved making things since I was a child. I majored in modern Japanese crafts history at university, and after graduating, I worked at the 21st Century Museum of Contemporary Art, Kanazawa, which is known for art and design. After that I worked under Yudai Tachikawa, CEO of t.c.k.w (http://tckw.jp/), who coordinates traditional techniques with interiors and commercial spaces and such. I feel that all of that led up to the work I do now.
There's also the fact that the Internet had just become popular; I'm very interested in what new fields are all about, too. I'm sometimes involved in research on the latest technologies and materials. Recently, I've also participated in making websites that create content by analyzing Twitter data and in experimental projects of major companies. Although, at first glance, my work seems wide-ranging, to me the main point is the same: it's all about people's wisdom, whether it be in the form of traditional crafts or technology. As I work I'm interested in how to remain in and change with the society of the future.
— What are your ties to Kyoto?
When I was a university student, I went there at least once every season. Now, in addition to Kyoto Craftsmen Studio, I'm also running Kintsugi Studio RIUM (https://kintsugi-rium.jp) in Hotel Kanra Kyoto, so I visit periodically.
— Hotel Kanra Kyoto will be the venue for DIALOGUE. As the topic for the project is future-oriented production, we would like to ask you what that is.
I think that in terms of crafts, the image of the future is trifold. There is the future of the first person, who decides what kind of production to engage in; the future of the second person, who determines how works and techniques will remain; and the future of the third person, who serves as a pipeline between the crafts that have continued from long ago and the future. In the forestry industry, as well, trees are planted and mountains protected with the belief that someday others will use them. Mountains pass into the future based on how they were made in the past. The same time axis applies to crafts, and this is one thing that makes them interesting.
— Is it as difficult as it seems to stay motivated as a creator?
For people who are craft bearers, when they choose the way of crafts, I think they're aware that they are where they are because of their predecessors and thus must someday pass the baton on to others who will run with it. I believe such people think their craft has become part of their body, perhaps.
— Why do you think crafts are attracting attention now?  
These days, rationality is given priority by eliminating waste and making things convenient, as much as possible. Some kind of space tends to be left out — for time, for effort, and for intermediaries [all of which include the kanji for space] in distribution and such. Some of this is good, but when it goes too far, it makes me wonder if people should really have to conform to rationality as a way of life. That itself might be what stupidity is [the Japanese word for which literally means "missing space"].
With crafts, for example, it takes only seconds to use spray paint but days to apply lacquer. It takes both time and effort, which is exactly the opposite of rationality. Strictly speaking, the world might not "need" such things. However, their very existence makes different values visible. Without crafts, which cannot be spoken of just in terms of rationality or industrial scale, I feel that people will stop reflecting on the why of creating things and what human life is all about. It is exactly for these reasons that I believe crafts are necessary.
— What things should be considered now concerning crafts?
Although the value of crafts includes their function as tools and their unique stylistic beauty, more than anything, I think it's that they hold a lot of space. Contemporary products more often have the elements of being convenient or "cool," but they all seem to reduce and contract space, which is how they are the exact opposite of crafts, I feel. In keeping, I think we must consider how crafts can carefully create space, while explaining why they take time and effort, finding friends to venture into the future with, and changing the ambience of spaces.
— Do you think contemporary creators have that awareness?
I think consumers have it more. Kintsugi is also an example of this. It's definitely faster, cheaper and easier to just buy something new, but doesn't making a special effort somehow generate a new story and credibility in one's life? People who resonate with this are steadily increasing, so I think the idea that it's acceptable to create like this will continue to spread as long as there are such people.
— "Travel and Crafts" will be the theme when KOUGEI NOW is held in March. What do you think about the exhibition being held at a hotel?
A hotel is not a place for daily life, but it's also not a gallery, where you face the art. I think hotels have a presence that mediates between the ordinary and the extraordinary. However, the experiential sense of visitors and exhibitors will differ substantially depending on their image of or experience with the hotel. This is what makes it interesting and also difficult, but I think it's both a good idea and a good challenge.
Also, I'm involved in a lot of work for creating hotels. Together with hotel owners and staff, I'm always puzzling over how a hotel can be not just a place to stay but something that provides functions and value beyond accommodations for its city. So I think that this is an interesting challenge that will expand possibilities for hotels as well.
— What do you think the appeal of DIALOGUE is this time?
Its greatest appeal might be just what the title indicates: being able to engage in dialogue, with creators. With crafts, the form of a thing enters people's lives. There are so many antique-like items around that it seems like there would be opportunities for dialogue with creators, but there aren't. It's precisely because the hotel exists as a non-everyday place that we won't need to view crafts as tools but can instead easily discover and notice them in other ways.
In addition, because various people will likely visit, it will make it possible to explore different values and ways of enjoying things while in dialogue. If there are things visitors don't understand or would like to know, they can just ask the creator, right in front of them. DIALOGUE makes that possible, so I think it will provide opportunities for enjoyment.
I want people to bring their children, and if they bring their grandchildren or something that would be great. Also, with the hotel being a leisurely and tranquil venue, I hope that people will engage in many dialogues. The result will be truly wonderful: people can reflect on and obtain crafts that are unique to them while getting to know the creators who are their contemporaries and with whom they will face the future.
INTERVIEW
TEXT BY MAKO YAMATO
PHOTOGRAPHS BY MAKOTO ITO
18.01.30 TUE 20:37