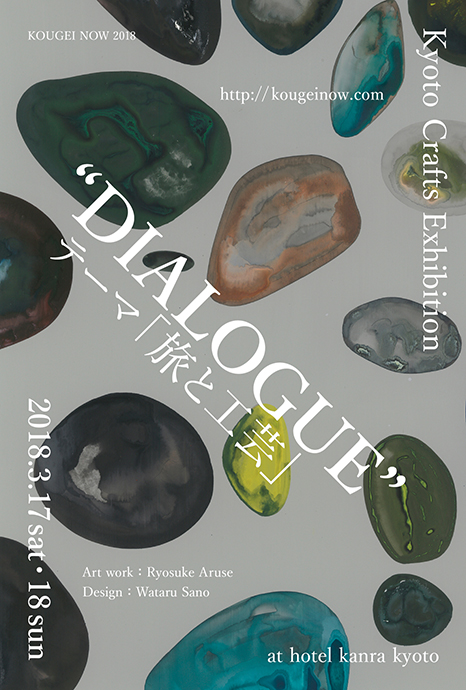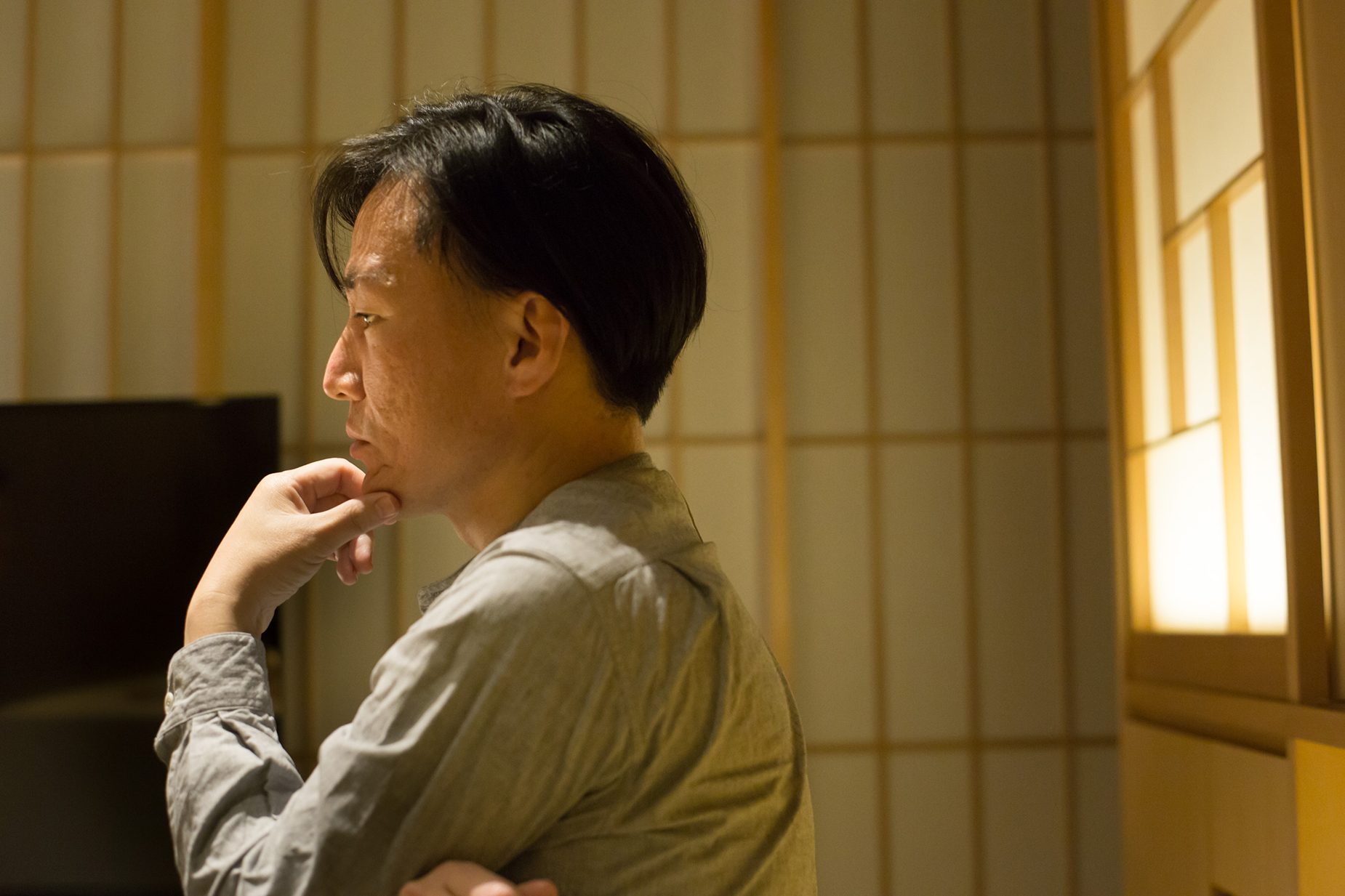 Shingo Yamasaki / Director of KOUGEI NOW
Born in Kurashiki City, Okayama Prefecture, in 1978. Became director of the Kyoto Craftsmen Studio in 2012. Established craftwork magazine "KYOTO CRAFTS MAGAZINE" in November 2016. Started the KOUGEI NOW project the same year.
Hotel-Style Exhibition, in the Midst of a Craftworks Fervor
Yamasaki: The KOUGEI NOW project began in 2016. The first event for the project were a series of summits meant to share the reality of modern craftsmen, and featured issues and ideas on three topics—the Tango chirimen silk crepe from Tango, Kiyomizu ware (pottery) from Kiyomizu, and the materials and tools that are used in traditional craftwork.
I thought about hosting our second event, "DIALOGUE" at a hotel, and making it both an exhibition and sale event, because I wanted this project, this location, to speak to the craftsmen about the future of craft making. For instance, there's "MONO JAPAN," which is an exhibition that has been held since 2015 at the Lloyd Hotel & Cultural Embassy in the Netherlands, to introduce Japanese crafts and designs to the people in the Netherlands. There's something special about an exhibition and sale event that's held in a setting like a hotel. I'd always wanted to host something like this in Kyoto, and thought that this was my opportunity. And as soon as that decision was made in my head, I knew it had to be Hotel Kanra Kyoto. There's no other hotel in the country that has a craftworks shop, and a kintsugi workshop*. They once asked me to help them choose the Japanese-style tea cups that are in the guest rooms, and I just thought—it has to be here.
* The 1st floor of Hotel Kanra Kyoto is home to a kintsugi workshop that is always staffed with professional craftsmen. Visitors can observe these craftsmen using the kintsugi technique to repair items in the hotel, as well as items that guests bring into the workshop.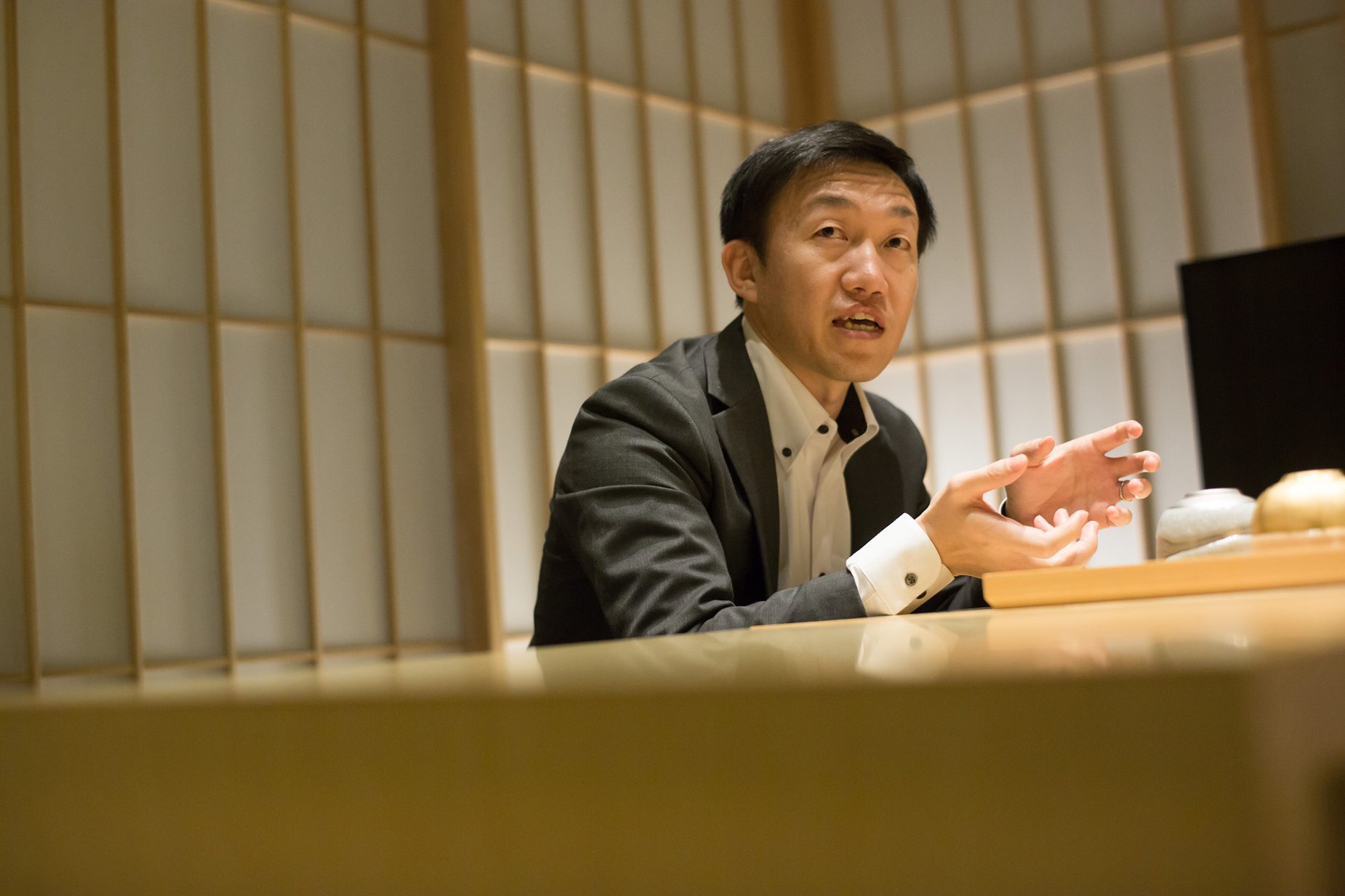 Daisuke Tomooka / General Manager of Hotel Kanra Kyoto
Born in Oita Prefecture in 1982 and grew up in Saitama Prefecture. Worked in construction, then began working in the hotel industry. Entered UDS Ltd. in 2011. Became manager of Hotel Anteroom Kyoto, then general manager of Hotel Kanra Kyoto in 2015.
Tomooka: Mr. Yamasaki was actually the one who introduced us to the creator who made us the Japanese-style tea cups for our guest rooms. The "kanra" in Hotel Kanra Kyoto is made of the Chinese characters for "feel" (. The most important thing for us is that our hotel conveys the goodness of Kyoto and of Japan, so that guests can experience Kyoto even while they're in the hotel. In terms of just hotel operation, most managers wouldn't want things like trees and rocks inside the hotel, but I thought it was necessary to convey the goodness of Japan. So we decided to challenge ourselves and use things like slate for the floor, and have plants and trees in the hallways.
Traditional craftwork is another one of these things. We want our regular guests to be able to discover something new each time they came here, and so we have different tea cups, made by different craftsmen, for each floor. Pieces made by each of these craftsmen are in the shop on the first floor as well, and we also get some guests who visit the workshop to see more of a certain craftsman's work. In that sense, I feel that this hotel has helped preserve tradition. And that's why I was so happy when I received word about getting involved in this project.
Yamasaki: In my work, I get a lot of requests from hotels to introduce them to creators. Last year, I went to a hotel in Shanghai for a meeting, and they said they wanted to use the real thing. It's really very interesting. But even out of all of these, the craftsmen I introduced to Hotel Kanra Kyoto were particularly special—not the kind of people that are easy to find. They do sell their pieces through wholesalers, but most of them are just individuals working quietly on their own. To see these craftsmen now working with a hotel, and to hear that guests are visiting the workshop to see more of their pieces—it really makes me feel glad to have introduced them.
Tomooka: I feel the same way as well, because normally, as a hotel manager, I wouldn't really have the opportunity to visit a workshop. That I can do that in this hotel is one of Hotel Kanra Kyoto's strengths. And when you actually go to the workshop, and see the pieces being created, and hear the craftsmen's stories, you realize even more the brilliance and appeal of their pieces. It was so interesting, and taught me all kinds of things—like oh wow, this is how that's made, or that looks really difficult.
Why in Kyoto, an Urban Tourist Area?
Yamasaki: Kyoto as a city is the perfect size for staying in a hotel, and going to visit workshops. It's an urban tourist area, so if you just hop on a taxi, you can get to a workshop on about 1,500 yen.
Tomooka: That's very true.
Yamasaki: But because the workshops tend to be in just regular houses, it can be pretty intimidating to open the door and walk in.
Tomooka: That's why I think the concept of "DIALOGUE" is so interesting—how it's being held in a hotel, where visitors can experience a sort of condensed series of workshop tours. Part of this hotel's philosophy is that we offer opportunities to reevaluate and re-recognize the value in people and things. This doesn't just mean using craftwork as part of the guest rooms, or selling them in the shop, but also creating opportunities for people to talk to the craftsmen directly, if we're lucky. To be completely honest, we did consider this decision very carefully from the profit angle, since the event would be held in March, during our busy season. But this is an opportunity to have more people know about Hotel Kanra Kyoto, and it will drive us closer to our goal to bring change to the Gojo neighborhood, where we are located. And on top of all of this, to be given the opportunity to really communicate the appeal of traditional craftwork? There was every reason to say yes.
Yamasaki: I am so grateful that he agreed to do this event with us. Craftwork events are being held in all kinds of areas, and it's becoming increasingly common for people to go see the places where craftworks are made, to the point that there's now a word for it—"industrial tourism." I myself often go to Tsubame Sanjo in Niigata Prefecture (related article: , Sabae City and Echizen City in Fukui Prefecture (related article: , and Takaoka City in Toyama Prefecture, and there's a lot of young people that participate in the events there as well. They meet up in the morning, go to workshop tours during the day, eat great food for dinner, then go home. It seems to me like a sort of package tour, and it relates back to that one trend a while back, when a lot of young people suddenly started going to art festivals. But I knew if I were to do this event in Kyoto, it couldn't be a workshop tour festival. Kyoto is a city of travel, and in the sense of industrial tourism in an urban environment, we decided to host the event in a hotel, and set the theme to "travel and craftwork." We gave it this description because we thought it would give people more of a reason to come to Kyoto for the craftwork, and that it would imply that the craftwork was an integral part of travel in Kyoto. Having the exhibitions in the guest rooms was something that I'd wanted to do for a very long time.
Because Kyoto is a major center of production, craft making in this city has a certain vibrancy and novelty, and there are more craftsmen here than in most other cities. We thought it would be interesting if this motivated people to travel around, visiting craftsmen in other areas as well. This is an exhibition and sale event, but it is first and foremost an exhibition, and so we want this event to create sort of a chain reaction of B2B business as well.
Tomooka: I've had experience being the manager of Hotel Anteroom Kyoto, which is an art-themed hotel, and so it was easier for me to understand what Mr. Yamasaki meant when he said "festival." What kind of spatial design are you thinking of for the "DIALOGUE" exhibitions?
Hotel Exhibition That Shows the Blending of Craftwork into Everyday Life
Yamasaki: I want each of the craftsmen to be able to use the guest rooms however they want. Though they are hotel rooms, they feel a lot like residential spaces, and so I thought it would be nice for them to be able to display their craftwork in a way that evokes how they would be used in everyday life. Right now we're fielding a lot of applications from various kinds of craftsmen, creating all kinds of craftwork—things like pottery, which blend very easily into the everyday living environment, to furniture, to Nishijin brocades… We even get applications from other prefectures, outside of Kyoto. Mainly, the applications are from craftsmen that are future-oriented, younger craftsmen, and craftsmen of traditional backgrounds, but who want to drive themselves to try new things. Some of these people have even told me how glad they are that something similar to "MONO JAPAN" is being held in Kyoto, and so I really feel like we're sharing the same vision. Of course, that also means there's a lot of pressure to make sure this event is successful.
Tomooka: In a simple sense, I'm very excited that so many people are coming here, and I'm looking forward to being able to talk to the craftsmen.
Yamasaki: Craftsmen have a reputation for being stoic and reserved, but a lot of them are actually not like that at all. Ask them questions, and they'll tell you anything, and the things they say have a lot of impact. I want guests to be able to experience things at this event that they normally would only be able to experience by going to an actual workshop. Foreign travelers often use Kyoto as a sort of base for their travels, staying in a hotel in the city and going sightseeing in other places, like Kanazawa City. I would want Hotel Kanra Kyoto to serve that same purpose for the people that come to this event—to have this experience be a sort of base for their travels to other regions, to visit the workshops of the craftsmen whose work they liked. This would create a really positive cycle.
Tomooka: We at the hotel are looking forward to utilizing these new connections after the event—like working with more craftsmen to create new pieces for the guest rooms. It will be incredibly interesting to see how this will change and enrich the Hotel Kanra Kyoto experience. I would be very happy if more craftsmen wanted their pieces to be displayed here in this hotel, not only in the shops, but in general.
Yamasaki: Kyoto is home to many craftsmen. Knowing this, versus not knowing this, changes your experience of the city completely. There are specific areas that are known for specific things. For example, there are a lot of shops with Buddhist items near the Honganji Temples, lots of pottery shops in the Higashiyama area, and a lot of traditional clothing shops near the Kyoto Imperial Palace. In that sense, it may be fun to create a craftwork map as well.
Tomooka: I myself am very excited and can't wait until March.
INTERVIEW
TEXT BY MAKO YAMATO
PHOTOGRAPHS BY KUNIHIRO FUKUMORI
18.01.16 TUE 13:12